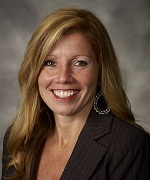 Kathy Lenart
As a Partner with Taylor Leibow, Chartered Accountants since 1989 and President with Taylor Leibow Inc., Licensed Insolvency Trustee, Kathy is responsible for the effective administration and management of corporate and personal bankruptcies and proposals.
Kathy's greatest satisfaction comes from providing an individual with a solution to their financial difficulties and is currently concentrating her efforts on building this area of the practice.
Kathy graduated from the University of Waterloo in 1989 and received her CA designation in 1991. Kathy is a Chartered Insolvency and Restructuring Professional and a Licensed Insolvency Trustee. Kathy is committed to her profession and currently stands as secretary and board member for the Ontario Association of Insolvency and Restructuring Professionals.
Kathy is a member of the finance committee for her church, St. Paul's United.
A Hamilton native, Kathy currently lives on the Stoney Creek mountain with her husband and two children. Kathy enjoys spending her free time with her family and encouraging their participation in sports.
Email: klenart@taylorleibow.com
Phone:905-523-0003 ext. 233